Festivalsummer 2019: Summer Breeze Festivalguide
Summer Breeze 2019 Festivalguide
So, you may wonder why the festival guide suddenly is published on Feathers & Goldbears and not on A call to the dreamers. There are some ongoing changes over the next few weeks and A call to the dreamers will be my photography portfolio and Youtube channel, while Feathers & Goldbears will remain my main magazine. I will talk about it in detail when everything is done and I can finally show you in which direction I'm heading, but for now, don't be surprised if the articles posted on ACTD will appear here, as I will move them very soon.
Let's start with what this post is actually about! Welcome to the big, fat festival guide about Summer Breeze that will give you all the information you want ( or not, but you will still get it haha ) about southern Germanys biggest metal festival.


What is it?
Summer Breeze Openair, short SBOA, is a metal festival in southern Germany near the village of Dinkelsbühl between Munich and Nurnberg. With around 45k visitors its one of the biggest festivals in the country and second in the scene after Wacken in the north. It takes place in August, from Wednesday to Saturday while the first day is mainly for arrival, even though the smaller Ficken party stage starts playing smaller acts from the very beginning. There is also the possibility to arrive a day earlier on Tuesday for 10 Euros per person.
How to get there?
The nearest village is a short car or bus ride away, but arriving by public transport is a bit more difficult as its literally in the middle of nowhere. They do run a shuttle service into town every ten minutes, so it is possible to take the train to Dinkelsbühl and then change to the bus. The easiest way by far is by car, you can park next to your camp and nearly everyone is doing it this way. The closest airport is either Munich or Nurnberg, where you could also take a rental car with you or get picked up by friends.
Camping & Facilities

As mentioned above, the camping ground is also the place where you park your car, which is incredibly handy as you don't to carry all of your stuff. Only downside is the danger of a car getting damaged, but people seemed quite responsible but I still wouldn't recommend to show up with your newest Porsche ( even though some people still did ). There are multiple shower and water toilet locations all over the huge camping area, you either have to pay for it or buy a flat-rate band. Dixies are spread all over and are placed in every second alley along the way. There are also at least two food stalls inside the camping ground and the whole party area is placed in between the camping which is closest to the festival site itself. You can either go partying, buy food or drinks here, visit the small supermarket in a barn or get a yummy fresh breakfast. The merch stall, which was highly popular and people queued for hours just to buy clothes, is situated inside of the festival site but close to an exit so its easy to take your shopping back to your camp before a concert.
Music / Line Up
As this is a metal festival, they host bands of every metal subgenre. And their are tons! If you listen to any kind of rock, don't mind it a bit heavier and want to experience the hospitality of metal fans, please go and take part in one at least once in your life! I added the line up below, for a more detailed review please check my post about the concerts themselves ->
concerts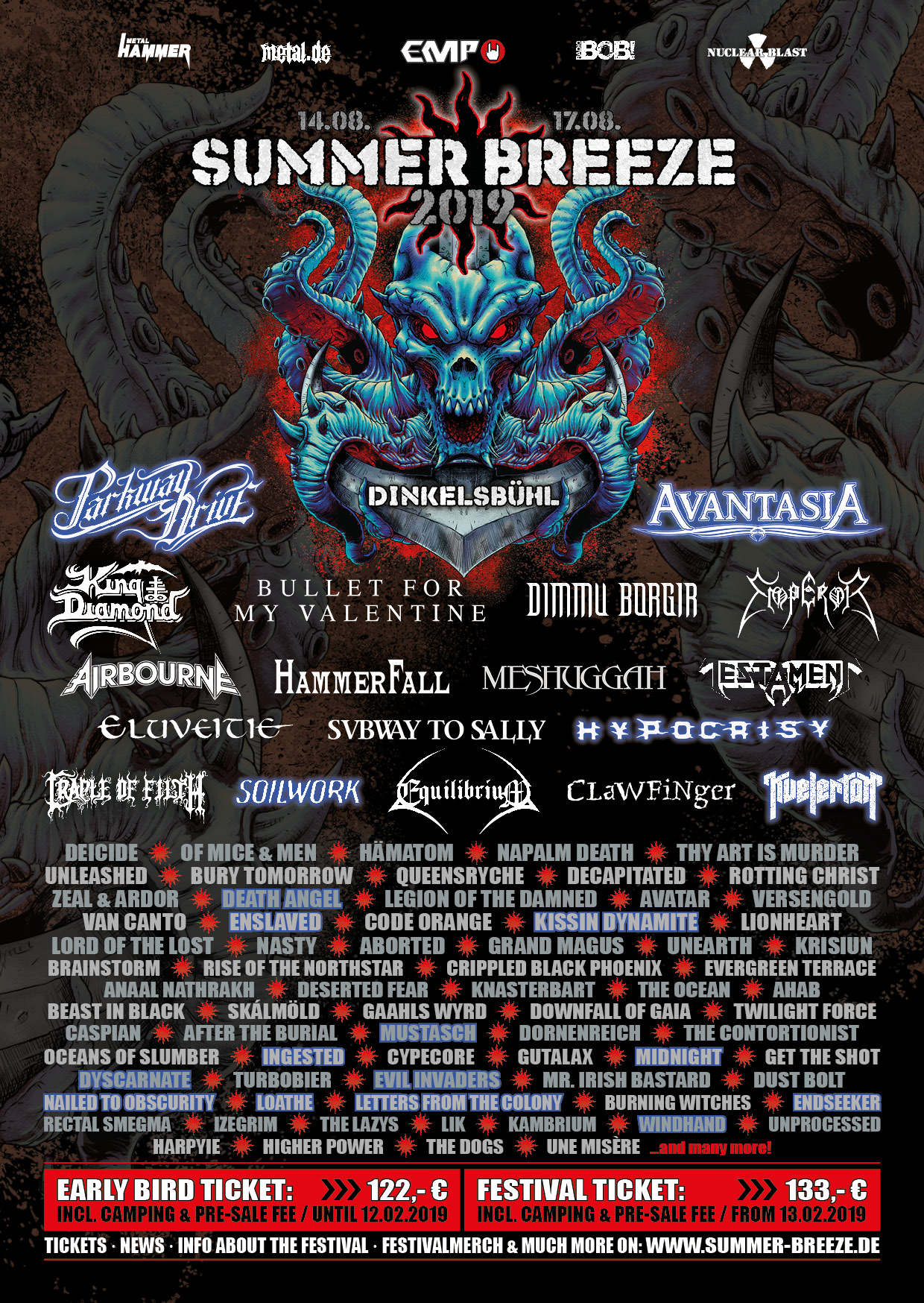 People / Vibe
There is only one word to describe the people: Metalheads are literally the kindest and most open people I've ever met. 45`000 people who are a bit different than what society calls normal come together to celebrate the music they love, with no judgement at all, dressing the way you want to and nobody gives a fuck. In my opinion, this is like the whole world should be. Drugs are basically non existent, except the occasional joint and of course loads of beer and met, but otherwise everyone seems rather responsible. While on mixed festivals there are way more completely wasted folks lying around, Summer Breeze seems much more conscious and even if you fall in a mosh pit or are standing next to one, there is always someone helping you or taking care that you don't get pushed into it.
For more photos of the beautiful festival crowd, click
here
!
Food & Drinks
The variety of food is enormous, you can get whatever you want and there are tons of vegetarian/vegan options around. A bit special is the drink situation, they also sell plastic drinking horns at the beer stalls and several brands like Ficken or Apfelwein have their own are where you can buy their liquor in a themed environment. It is also allowed to bring your own horn inside of the venue, even bags are allowed but they will be check at the entrance. There is also a small supermarket with essentials in a barn inside of the party area where you can stock up if you run out of something, a shuttle bus goes to Dinkelsbühl every ten minutes so this is another cheap and easy option if you need to go food ( or beer ) shopping!
Stages
There are four stages in total at the festival, one of them is placed inside of the party area while the other three are on the festival site itself.
The main stage is obviously the biggest of them and has a whole separated part of the site to itself. There are some food stalls around it there is enough space for everyone, even during a headliner show everyone had the chance to take a look and the security was very well organised. Crowdsurfing is allowed and actually wanted, sometimes it is the easiest way to get out and they are prepared to catch you in the front.
T-Stage is named after a founder who died a few years ago, it is the second stage on the left of the entrance. As the area in front basically stretches all the way back there also is enough space, the sound is excellent and there is a big screen on the left side.
Wera Tool Rebel stage is inbetween the T-Stage and the shopping area, which connects this part with the one the main stage is placed on. Mostly smaller or newcomer bands are playing here, but it can get quite crowded if a better known act plays its set. It is also the only one that has a roof and is protected if it rains.
Ficken Party Stage is the last and smallest one of the four, you can find it at the party area inside of the camping ground and it is the place where small local bands get the chance to play, sometimes a metal dj is on or on two occasions they got metal bands for kids playing there and its free of charge for them to come and get a glimpse of this magical circus.
Sustainability
I wrote a big blogpost regarding sustainability and environmental consciousness, so please check it out
here
!
I really hope you liked the 2019 Festival Summer series, and while this is the last official post there will be an extra one so stay tuned. Otherwise, can't wait to be back at the place where I`m happiest and leave me your suggestions of festivals I should visit next year in the comments!
Love,
Faye